Choose Right – Don't Waste Your Money
Choosing an easel for your art creation is going to be one of your bigger investments as an artist. My first piece of advice is don't just go with the cheapest. You will end up hating it, and replacing it with something better, and it will cost you more money.
Think about what you are going to use it for, where and when and how, and choose what will work best for you.
Consider Your Artwork
What kind of space do you have for work and for storage? Do you have a place where you can keep an easel up most or all of the time, or do you want to tuck it into a corner, or fold and put it away?
What medium do you use? If you use acrylics or oil paints, you'll want your paint surface to be almost vertical. If you are a watercolorist, you will work flat. Pastel can be either vertical or flat.
Sit or stand? When I'm at the beach I' m sitting on a beach chair. I prefer pastel paints or pencils in plein air. That means less to carry, less clean up. I can wash up in the water. Some artists stand and paint, no matter where they are. I'm sure you've seen artists standing at easels and working with oils and acrylics. (I personally have never seen a watercolorist in plein air, but that doesn't mean it won't happen.)
When I am in my home studio, I prefer to stand at my easel. What about you?
What size of art do you want to create? If you plan to work on 24 inches or fewer, all the time, then your easel can be smaller, but it you also want to be able to do large works, it needs to be both bigger and sturdier.
These are all things to think about as you get ready to choose your own artist easel.
Styles of Easels and My Favorite Options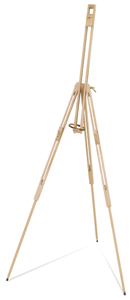 I am going to show you my personal favorites in several options. (Please know that I will receive a small commission (which will not cost you any extra! if you click through to buy from the links on this page. The commissions help me to support this blog and my own artwork.)
The sturdiest style of easel is the H-Frame. It also takes up the most space and is harder to store away. The H comes from the four legs that form a base rectangle on the floor. This style stands upright and can have either one or more masts to support your art surface.
Many have crossbars for more stability and a narrow shelf to hold supplies. There are also Giant H-Frame Easels for very large paintings.
Another very popular style is the A-Frame Easel, or tripod or Lyre Easel. With only three legs, it is less sturdy than the H-Frame, but can be more easily tucked into corners when not in use. Or the rear leg can be drawn forward for flat against the wall storage in a closet or cabinet.
"Slim, lightweight, and fully collapsible, the Blick Studio Classic Field Easel is great indoors or out. Weighing just 3 lb, it's easy to transport in the field ‐ and just as easy to store in your home or studio. It is beautifully crafted of hand-finished hardwood. "
If you use a variety of mediums, there are convertible easels. These can be used nearly vertical or flat and can be adjusted to a wide range of sizes. This one is a convertible that 's light enough to be portable for plein air painting.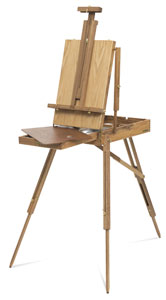 Most plein air easels are A-frame, so they can fold up and be transported easily. Some are made of aluminum rather than wood for less weight.
A French easel-style also has a drawer and shelf which can be handy for plein air work.
Blick Art Supplies says, "French Style Easels are similar to sketch box easels because they consist of a box for storage, and a lid that folds up to act as the easel, but French Style easels also have tripod style legs. When opened completely they become full sized easels, but if the legs are left closed they can be used as table-top easels.
Many artists like this type of easel for plein air painting because they can stand at it while they work and it has enough room to carry all their necessary supplies."
There are variations on each of these. You can get either H or A frame in a tabletop version. This could be handy for work up to 24 inches and take up less room in your studio.
My tabletop is a pochade box easel, that opens with the easel and has storage in front where I can put my pastels and tortillon or acrylic paint supplies for the day.
"The Sienna Plein Air Pochade Box is essentially an easel and a palette in one, with adjustable canvas holders that hold canvas panels and stretched canvases equally well. "
One variation is a bench easel or art horse.
There is a kind that combines a bench with an easel, so that you can sit astride it and paint. The work size is smaller. The one shown here folds away for storage or for transport.
The flimsiest easels are called Decorator Easels. They are designed for display, not for working at.
What About the Kids and Their Artwork?
When making a choice for an easel for your kids, you will want to think about their age, how long you want the easel to be usable. You can choose options that will grow with them.
Some children's art easels have adjustable legs. Some come with magnetic boards, some with dry erase, others with replaceable rolls of paper.
Most are made of plastic and are built to be very durable and last for a long time. Many have built-in storage to keep play areas organized and neat- well, yeah right! We are talking about kids here, so neat may not be the right word.
But at least with storage, the possibility exists.
 Some Other Thoughts
Because you are going to work with different sizes of canvas or panels, adjustibility is a consideration. Does it have screws or levers? What is involved in changing the size for your work? What about adjusting the height of the easel?
Another thing is, you will get paint on it. I suggest spending your money more on the versatility of the easel to meet your needs, not for the beauty of the wood grain. Use your investment dollars for what you need to create beauty, not for the beauty of the easel is my advice.
What are the parameters for you in choosing your easel? Which one are you going to treat yourself to? If you have any questions, please be sure to ask. I will get back to you with answers right away!